Both for indoor and outdoor events a stage, appropriate is size and quality, is a fundamental accessory, naturally, along with its comfort, aesthetical, and safety equipment.
Klemm Concert will set up custom-sized stages, up to 300 square meters in floorspace and 60 to 180 cm in height, in arbitrary configuration, whether it be multi-tiered or a linear runner arrangement or continuous or separated stage setup. Only the imagination of the client or the production designer limits the diversity of the modular stage.
The success of an outdoor event in no way may be affected by the vagaries of the weather, so we can offer you more types of coverage.
In case you need to hang a greater amount of lighting or audio equipment, or you need movable scenery and other items for the show, moving background veil or round curtain, a retractable roof, Klemm Concert's TOM-CAT-type, modular, canvas-covered lighting bridge system is available in many different sizes.
Roof structures:
Download the documentation:
Most popular cover system is the domed, modular, aluminum construction with canvas awning. These will provide up to 6 to 8 meters of headroom and are suitable for hanging the lighting equipment.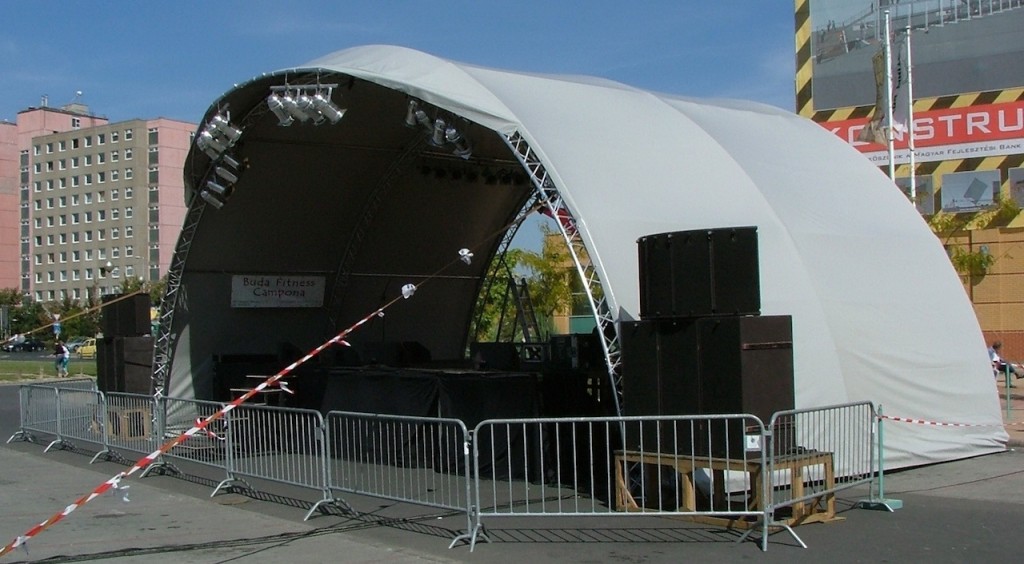 Our continuously-maintained equipment is tested according to strict rules of safety.
Stages
Modular
200sqm of ALI Stage stage elements, adjustable from 60 to 120cm in height
Size of individual elements: 1.22 m x 2.44 m
Accessories
Stage covers
Stage wrappings (Graboplast)
Stage stairways
Bridge and coverage systems